Founded in 1916 HKK Chain has concentrated its efforts on the manufacturing of roller chain. With decades of experience and continuous research in the roller chain field, HKK consistently produces chain of high quality, uniformity, and durability. HKK roller chains are ideal for many industrial and agricultural applications. In addition to use on plant machinery and farm equipment, HKK chains are found in the lumber, mining, oil, food processing, packaging, construction, and many other industries. The basic function of HKK roller chain is the transmission of mechanical power with a high degree of efficiency. By using HKK Chain, you can eliminate power loss and down time while being sure of profitable, high level production. HKK roller chains are manufactured to meet the highest quality standards, well exceeding American National Standard Institute standards. HKK chains are dimensionally interchangeable with any other chains conforming to ANSI standards.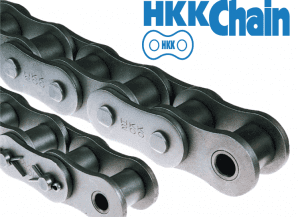 HKK manufactures a number of specialty chains and attachments. If you cannot find what you are looking for on this web page please call us on (03) 9687 8177 for further assistance.
Click on image belowfor HKK's General Catalog.